Macula & Body Health Complete®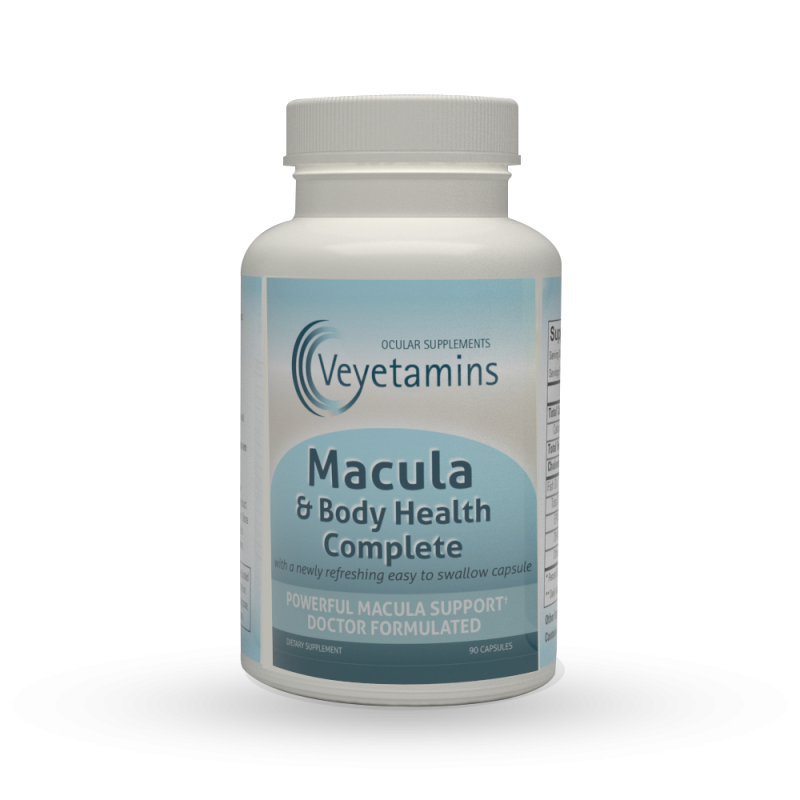 Macula and Body Health Complete is an all-in-one formula for patients with age-related or other forms of Macular Degeneration as well as selected high-risk patients.
supplement facts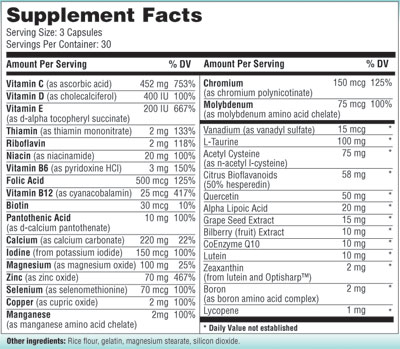 Product Description
Preserve Macula and Total Body Health
Based on AREDS I/II, Vitamin E Meta-analysis and other Scientific Research
Includes AREDS I/II nutrients found to preserve and improve vision based on leading clinical trial results, spearheaded by the national eye Institute.
This convenient all-in-one formula is an excellent value for patients, reducing cost by combining a complete multivitamin with an AREDS formula supplementation with other nutrients found to successfully preserve vision.
The capsule formulation allows maximal bioavailability with easy absorption.
An array of bioflavinoids, found in wine and other sources and shown to reduce macular disease progression, are included at optimal levels.
The optimal levels of Lutein (10 mg) and Zeaxanthin (2 mg) suggested by the latest AREDS II clinical trial protocol are included for optimal vision and whole body health.
The B-complex component includes the elements required for nerve and vascular function.
Free of Vitamin A, which evidence suggests may accelerate certain forms of dry AMD and increase the risk of certain cancers.
For complete macular protection based on the AREDS II protocol, your eye care professional may also recommend the Omega-3 DHA-Advanced Formula.
Made in GMP and NSF-certified facilities from the highest quality pharmaceutical grade ingredients
Recommended dose: 3 capsules daily with meals.
These statements have not been evaluated by the FDA. These products are not intended to diagnose, treat, cure or prevent any disease
Additional Information